Referred By [[ASSOCIATE-NAME]]
Be Safe and Save This Spooky Halloween
Posted On: October 23, 2019
No matter your Halloween plans, don't let bad news creep up on you. Take these simple precautions to make sure that your night is more treats than tricks! 

Walking Around Halloween-Town
The best part of Halloween for any family is braving the dark, showing off your costume and earning plenty of delicious sweets. You can keep the scares at a minimum if you try these tips.

Sketch Your Candy Plan – Plot out the route you'll be trick-or-treating ahead of time. Include well-lit streets with sidewalks that you wish to travel and roads, alleys and yards you don't want to cross. Also, decide what time you'll head home in advance. This plan will optimize candy return on time investment, while cutting down on unforeseen (and unnecessary) dangers. Don't forget a flashlight or a fully-charged phone with a flashlight feature. 

I See a Bright Light – Plan costumes that are bright and reflective. Visibility is critical to safety, especially with the possibility of crossing streets at night. Find a way to incorporate reflective tape, because a glowing ghost is way more exciting than a regular ghost.

Spooky, But Not Dangerous – While we're on the tangent of costumes: think of the costumes' benefits and hazards to safety. Shy away from costumes with pieces you could trip on and wear comfortable shoes when possible. Masks can limit eyesight, so check out non-toxic makeup and headgear as a safer alternative.

"Ugh, Mom! You're Embarrassing Me!" – Ah yes, the magical age where kids decide their parents are the worst ghouls in the neighborhood. If you trust your young adult to trick-or-treat without you, make sure they stay with a group of friends at all times. Remind them that you, and 911, are just a phone call away if necessary.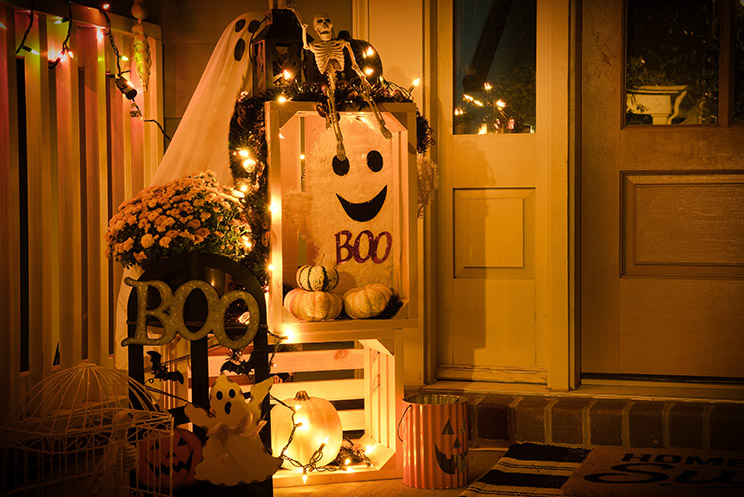 In Your Own Haunted House
Halloween isn't just strutting the streets in costume; a considerable amount of the spirit lives in your very home! Keep the danger away when crafting your Haunted House with these tricks.

Put the Best Grin On – When carving jack-o-lanterns, do not let children handle the carving. Instead, turn it into a fun family project: they can pick out the design and trace it, and then you carve it. When lighting up your masterpiece, remember the incredibly wise words of Frankenstein, "Fire bad." Candles are a fire hazard, so use glowsticks instead!

Home Safe Home – If you're handing out candy, your front porch will get a lot of visitors. Clear the area of garden hoses, toys, bikes and lawn decorations – anything children could trip over. Restrain your furry friends so they don't run loose. Check and replace lightbulbs to ensure a well-lit space. If there'll be no candy at your home this year, leave a note on the door and turn off front-facing lights so trick-or-treaters don't ring your doorbell.

Don't Let Your Energy Bill Go Bump In The Night – Everyone always wants to have the spookiest house on the street, but there's a safer way for your wallet. When searching for lights to decorate, seek out LED lights as they quickly add up to major savings. The terror of phantom-drain is real and applies to Halloween decorations as much as regular household appliances, so unplug to defeat energy vampires.

Screen the Treats – At the end of the night, check all the candy and sweets for suspicious items or anything that could affect food allergies. If any piece is open or peculiar in any way, just throw it away. Try to ration the treats days and weeks after Halloween to make the fun last longer!